Police Arrest 6 Men for Child Trafficking in Sting Operation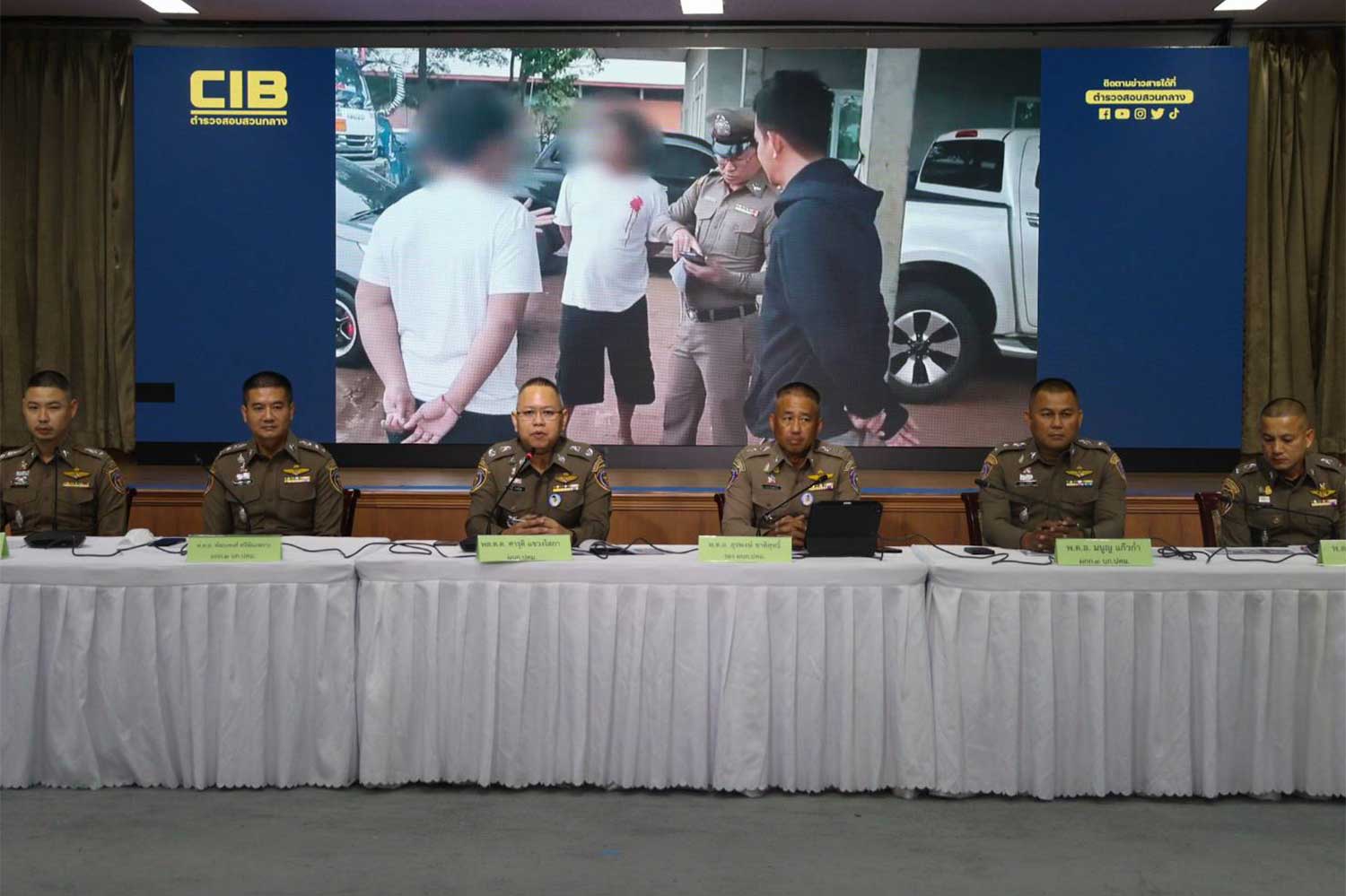 Police announced yesterday that six people were arrested for procuring and child abuse in two child sex trafficking cases in northeastern and southern Thailand.
On Thursday, two people were arrested in Chanthaburi province, in southeastern Thailand as part of a sting operation. It was the result of an investigation by the Anti-Trafficking in Persons Division police, which discovered in September last year that the Twitter account @chadon_ chang, which has since been suspended, posted online messages offering child sex services. Girls and boys were priced between 1,500 and 2,000 baht.
A police spy posing as a customer contacted the Twitter account to arrange a meeting in front of a department store. On Thursday, at the appointed time, a man arrived with a 13-year-old boy and a 19-year-old. According to Anti-Trafficking police, the police officers moved in to arrest him and rescue the two victims.
While officers were questioning the two victims, Mr. Chayadon Jeedchang, the suspected procurer, received a phone call from his associate inquiring about his share of the money. The officers then devised a strategy to apprehend the second suspect. Sukree "Sor Jaeo" Kornmaneeroj, 72, he was later arrested at a restaurant.
Police seized 3,000 baht in banknotes, two mobile phones, and two condoms from the pair.
Mr. Sukree admitted to procuring children to provide sex services during questioning. He'd be paid 200 baht per head. Mr .Chayadon, 45, told police that he was in charge of contacting customers and supplying them with children.
The two men have been charged with human trafficking and related offenses for conspiring to obtain children under the age of 15.
Police Arrest Madam
In Nakhon Ratchasima province in southern Thailand another police team arrested four child trafficking suspects, — one procurer and three customers. They rescued two adolescent girls.
Ms. Supatcharin Angkrathok, 19, was arrested after police discovered that she had been luring girls into the sex trade via Twitter. She was apprehended while taking two adolescent girls to meet three customers, who were also arrested.
Ms. Supatcharin has been charged with human trafficking for profiting from the flesh trade, obtaining minors for the sex trade, depriving minors of parental care, and other related offenses. Her customers have been charged with depriving girls under the age of 18, indecent assault, enticing girls to act inappropriately and profiting from them.
During questioning, Ms. Supatcharin allegedly admitted to pimping out girls for five or six months in order to fund her family's expenses. She would be paid between 300 and 500 baht for each sexual encounter she arranged.
The three customers admitted to buying sex from underage girls, all were being held in police custody pending further investigation.
Child Trafficking in Thailand
A recent study reveals that child trafficking remains a major issue in Thailand, prompting the government to reiterate its commitment to combating the crime.
The National Research Council of Thailand (NRCT) conducted the study on protecting children from human trafficking, which was revealed at a meeting yesterday chaired by Deputy Prime Minister Prawit Wongsuwon, according to his spokesman Lt Gen Kongcheep Tantravanich.
Thailand, according to the NRCT, is a source, destination, and transit point for child trafficking.
The majority of trafficked children, according to the council, were smuggled into the country from Cambodia, Laos, and Myanmar for sexual exploitation or forced labor in various tourist cities.
Children from Thai ethnic groups in the Northeast, in addition to children from neighboring countries, were victims of human trafficking.
The majority of cases involved girls, but boys were increasingly at risk of being trafficked, according to the report.
The meeting also touched on the prosecution of at least 77 government officials accused of human trafficking since 2012.
According to Lt Gen Kongcheep, the government's intention to eradicate human trafficking. In addition, the directed that prosecutions of charged government officials be expedited.
Prevention and protection measures will also be strengthened, with a particular emphasis on combating trafficking gangs that groom children online.
In addition to preventing child trafficking, the Labour Ministry has been directed to ensure that all migrant workers are registered and documented.