Hacker Renames Constitutional Court Website "Kangaroo Court"
Thailand's Cyber police have arrested a medical science graduate suspected of hacking the Constitutional Court website. The Cyber Crime police on Friday sought a search warrant from the Ubon Ratchathani provincial court after a meeting with officials from the Constitutional Court and the company managing the court's website.
Officers searched a house in northeastern Thailand's Ubon Ratchathani province on Saturday and arrested Mr. Wachira, 33, his surname was withheld by police.
Mr. Wachira allegedly confessed to hacking the Constitutional Court court's website.
Police also seized his computer and devices he allegedly used for hacking the website for digital forensics.
Mr. Wachira now faces two charges. The first is under Sections 5 and 7 of the computer crime act, which involves accessing the data of a computer system with measures limiting its access. The offense is punishable by imprisonment for up to two years and/or a fine of up to 40,000 baht.
Mr. Wachira also faces penalties under Section 9 of the computer crime act, for making changes to other people's computer data illegally. The charge is punishable by up to five years in prison and/or a fine of up to 100,000 baht.
The day after the Constitutional Court issued its ruling against public discussion of monarchy reform on Wednesday, the court's main web page was renamed the "Kangaroo Court." The content was replaced by a YouTube video of the song Guillotine performed by the American hip-hop band Death Grips.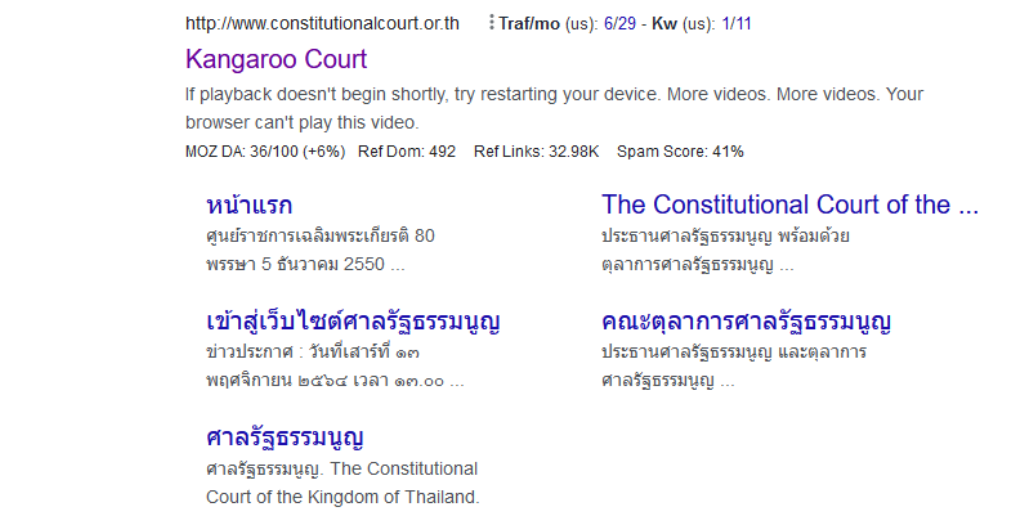 Cybercrime police have arrested a man suspected of hacking the Constitutional Court website
Rally against Constitutional Court decision
Meanwhile, the Thai government has warned anti-government protesters not to defy the Constitutional Court's ruling. Yesterday, a flash mob near the Bangkok Art and Culture Centre called for bail for "political prisoners." Above all, for those charged under article 112, Thailand's royal defamation law.
Several groups that have allied with the anti-government protest movement have also announced plans for a "Support Democracy" rally. They plan to gather at Victory Monument at 3 pm today. The anti-government protesters plan to walk peacefully to Sanam Luang to protest the court's ruling.
Despite Thailand's transition from military rule to semi-civilian control in 2019, the government under Gen. Prayut Chan-o-cha also retained the junta's 2016 Computer Crime Act. This draconian law gives authorities broad powers to restrict online expression, impose censorship, and enforce surveillance, and above all extends enforcement of Lese Majeste law to citizens' online activity.
The use of the Lese Majeste law under the criminal code's article 112 decreased in the final years of direct military rule but has returned tenfold as a tool of repression since 2020. Thirty-seven pro-democracy activists are facing new prosecutions for having allegedly insulted or threatened the monarchy.