Soldiers in Chiang Rai Kill Three Drug Runner, 19.5kg of Opium Seized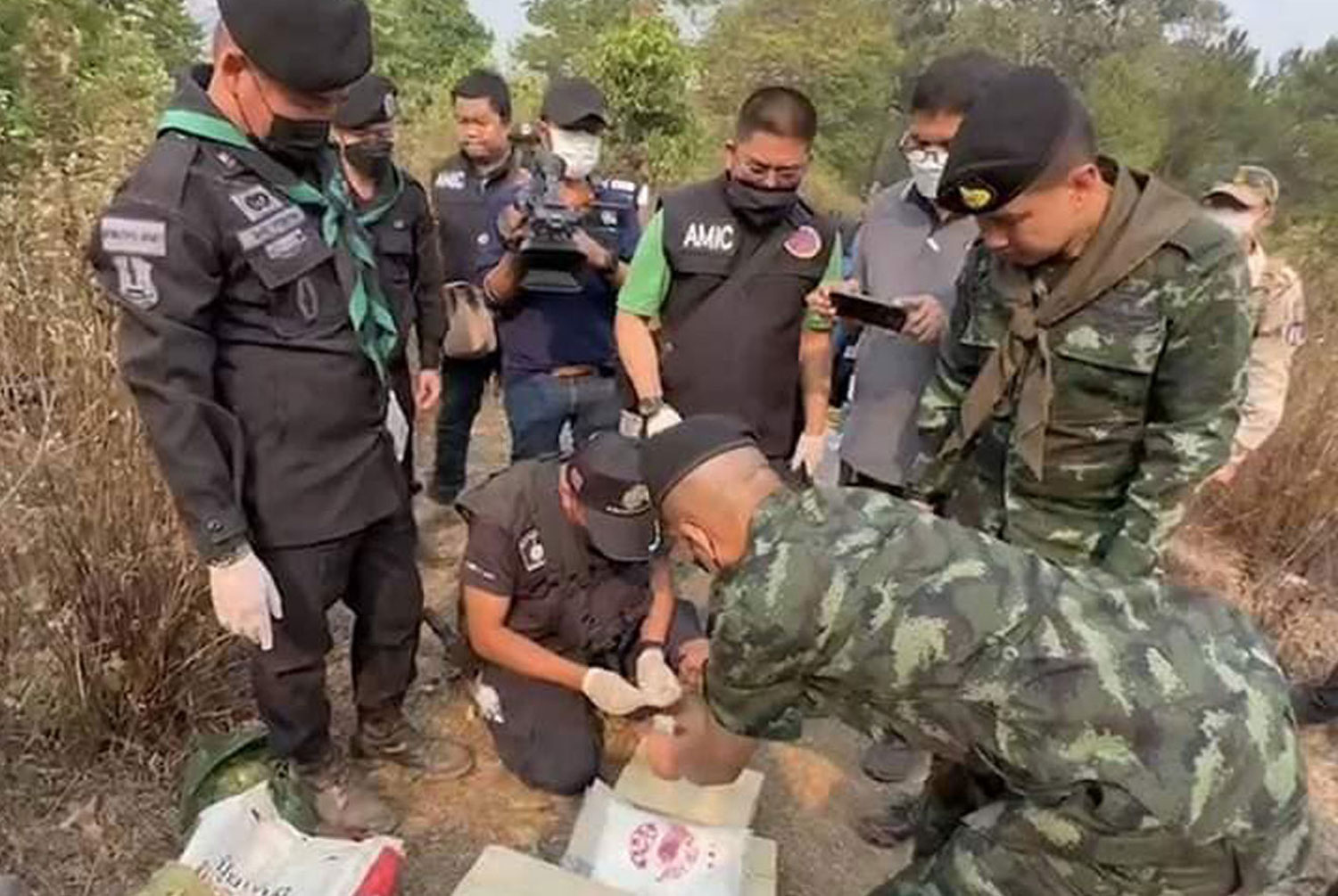 Following an exchange of gunfire near the Thai-Myanmar border in Chiang Rai, three suspected drug smugglers were shot and killed, 5.6kg of heroin, and some raw opium were seized.
A military patrol from the Pha Muang task force spotted a group of five to seven men carrying rucksacks along the border in Chiang Rai's Mae Fah Luang district. The soldiers ordered the men stop, but the men responded by opening fire, causing the troops to shoot back.
The gunfight lasted around five minutes before the smugglers retreated into the darkness of night.
Officers shut off the Doi Samsao Noi region overnight and visited the clash scene in the morning. There they discovered three men dead and four backpacks containing methamphetamine tablets, heroin, and 19.5kg of raw opium.
According to Maj Gen Suparuek Sathapornphon, commander of the Pha Muang task force, drug smugglers frequently hunt for opportunities during Songkran because they believe fewer security forces will be on duty during the lengthy holiday.
Haze Problem Plaguing Chiang Rai
Meanwhile, more than 3,400 individuals have been hospitalized for respiratory ailments in Chiang Rai province as they struggled to cope with choking air pollution produced by forest and agricultural burning in Myanmar and Laos .
Chiang Rai governor Puttipong Sirimat has declared Mae Sai district a disaster zone, as recommended by the business sector and civic groups, for fear of negatively impacting a large number of people, but that he will investigate other options.
The provincial health chief, Dr. Watchapong Kamla, revealed that 3,478 persons, including 372 in Mae Sai, had attended state hospitals across the province with respiratory illnesses such as sore throats and nasal irritations.
The governor stated that provincial officials have dispatched trucks to spray water into the air, which would help to alleviate the dust problem to some extent. He is scheduled to visit Mae Sai area today to discuss the issue with district officials and civic society groups.
Today, PM2.5 dust in Chiang Rai province continues much above Thailand's 50 micron safety standard, with an average measurement of 523 microns in Mae Sai's Wiang Phang Kham sub-district, and an average PM10 reading of 638 microns.
For the first time, PM2.5 levels in the Chiang Khong district, which borders Laos, and the Mueang district exceeded 400 microns.
The Mae Sai township is still blanketed in a heavy haze, making buildings visible only from a short distance away.
Meanwhile, it is stated that several park authorities and volunteers spent the entire day yesterday combating forest fires at Doi Chang area.
The fires apparently began in grassland near the viewpoint and soon spread, prompting forest officials to mobilize volunteers to assist in restricting their spread.