What is the Relocation Rates in India with GST?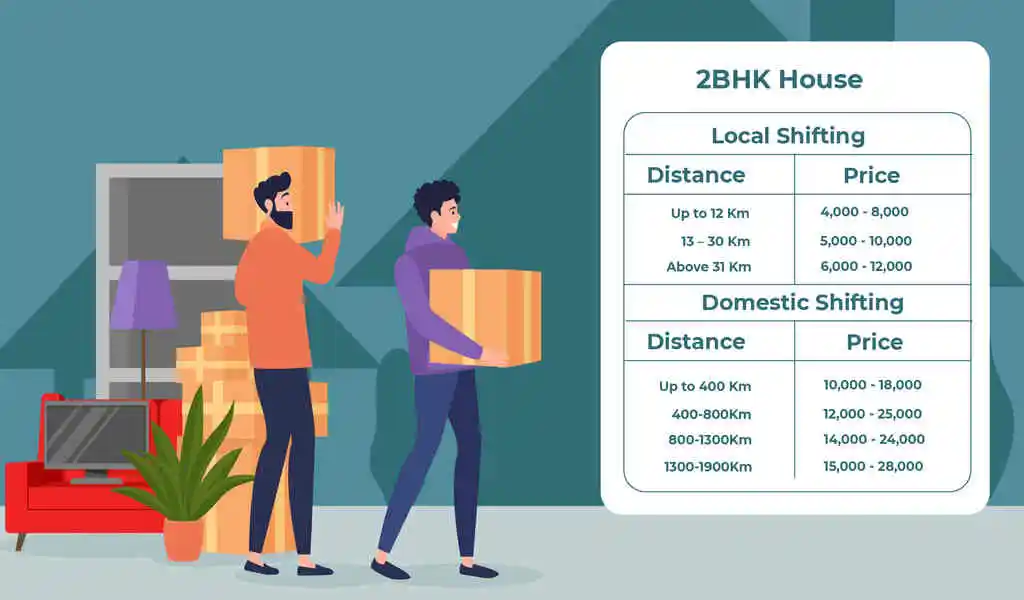 Relocation Rates in India with GST: Vola! You have finally found your dream house. Now comes the most hectic task; safely shifting your household items to your new place. The best and easiest way to relocate your house goods in India is to hire professional movers and packers in Mumbai or any city you live in.
Whether you are moving locally or to a different city in India, knowing how relocation firms calculate your shifting costs and how much percentage GST they add to your bill will be a wise move. This will help you avoid paying unnecessary expenses, and you will be able to know if the packers are genuine or trying to scam you.
Every shifting company has its own way of estimating the moving charges; there are several factors that influence the shifting costs. Mentioned below are some primary factors based on which movers calculate shifting charges.
Price Break-Up of Relocation Rates in India are:
Packaging Supplies Cost
Your packaging costs will depend on the number of your moving goods, the quality of packing needed (Economic or Premium), and the amount of packing material required/used. On average, moving firms will charge around 24% of the overall household packing materials cost. The lesser goods you shift, the lower will be your shifting cost.
Labor Charges
The entire relocation rates in India process depends on physical tasks like packing goods, loading them into trucks, unloading them at their destination, unpacking & reassembling them, etc. Around 17% of your overall moving charges is the labour cost; this will mainly cover the expenses of services such as disassembly-reassembly, packing-unpacking, loading-unloading, etc.
If you're shifting to a different city, the unpacking and reassembly services will not be part of your primary services provided by the movers. If you need these services, you have to inform them beforehand to make necessary arrangements but to avail of these services, you have to pay additional charges.
Transportation Rates
The truck rentals usually make up most of your shifting expenses. The truck is the most preferred and reliable mode of transport. The household transportation charges in India are approximately 59% of your total bill. The truck rentals also depend on the size of the truck, type of truck (shared or dedicated), relocation distance, etc.
GST Rates
Here is an example of packers movers price break up in the quote provided by them.
Table 1: Price break-up of 2BHK local shifting cost.
| Details | Price |
| --- | --- |
| Labor Charges | ₹ 2,040 |
| Packing Supplies Cost | ₹ 2,880 |
| Transportation Rates | ₹ 7080 |
| Overall Bill Amount | ₹ 12,000 |
Table 2: Your total bill including GST; packers and movers add 18% GST on your overall bill
| Details | Price |
| --- | --- |
| Overall Bill Amount | ₹ 12,000 |
| GST (18%) | ₹ 2160 |
| Total Payable Amount | ₹ 14,160 |
Factors Affecting Packing-Moving Rates in India
Quantity of Goods: The list of items you will move plays a vital role in deciding moving costs; it influences other cost-affecting factors like labor required, truck size, etc.
Quality of Packing: The costs fluctuate as per the quantity and quality of packing materials used. You can choose Economic or Premium Packaging based on your budget and moving needs.
Relocation Distance: The distance covered has a huge impact on your relocation rates in india for domestic shifting. The longer the distance, the higher will be your moving cost.
Type of Vehicle: Your truck's size depends on the number of household goods you are shiting. The price also varies as per the type of truck you choose; a shared truck will be cheaper, as your goods will be transported along with 2-3 other people's goods but will take longer to deliver. If you choose a dedicated truck, your goods will be transported in a single truck; they will be delivered quickly, but costs will be slightly high.
Workforce and Physical Efforts: The prices differ based on your home size, number of labors required, the amount of physical effort involved, etc. The amount of physical work involved depends on factors like residing floor, the distance between the door to the truck, the narrow staircase, the non-availability of the elevator, etc.
Additional Charges: If you are shifting to Packers and Movers in Kolkata; services like unpacking and reassembly will be provided upon your request for an extra cost.
Conclusion
The mover's price estimates for Packers and Movers in Pune include 3 main factors: labor cost, packing charges, and truck rentals. After adding up all three categories, they add 18% GST, summing up which becomes your total moving cost. There are a few factors like the number of moving goods, residing floor, packaging required, relocation distance, type of truck, the distance between the door to truck, etc., that influence your moving charges.
To avoid getting scammed by fraudulent packers; hir via a trusted packers movers referral portal. AssureShift, a reliable moving company directory, helps you hire trustworthy packers and movers in PAN Indian locations. Their partnered packers accurately estimate your moving cost by conducting a proper pre-move survey.
Also Check:
What Role Does the Goods and Service Tax "GST" Council Play?
Relocation is No Longer a Stressful Process and Here's
NFL Green Bay Packers Pull Ahead of Detroit Lions 28-17
Packers Down Rams, 32-18, to Advance to NFC Title Game